Dairying on the West Coast began as early as 1868, John Samuel Lang, was the first to acquire holdings at Lower Kokatahi from the newly constituted "Westland Waste Board".  The first butter factory was opened in Kokatahi in 1890.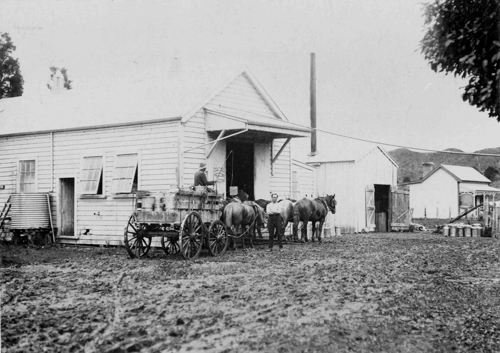 #015515 Kokatahi Dairy Factory
Numerous other factories were established around the West Coast in Hari Hari, Inter-Wanganui Flats, Whataroa, Karamea, Kumara and Waitaha.  Eventually these either closed or were amalgamated.
The Westland Co-operative Dairy Company Limited was formed in 1937 following the amalgamation of several small co-operatives within the Westland region including Kokatahi, Waitaha, Westland Cool Storage companies and part of the Arahura Dairy Companies.
The early 1950's saw the purchase of a cream can washer and a Benhill patting machine. In 1957 a two-year contract was signed to modernize and enlarge the factory. Tankers also began picking up milk in 1967, starting in Kokatahi and Kowhitirangi. The new Milk Powder factory was opened in 1968.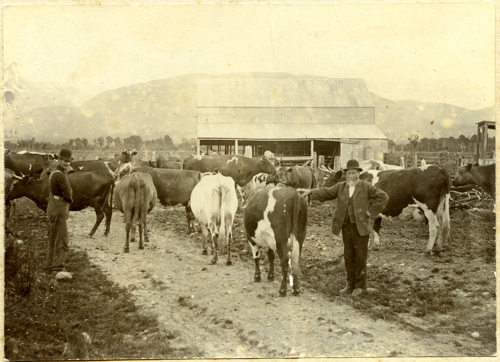 #010733 George Lyes Snr with cows.  Milked 31 Cows and was the last farm to supply Westland Dairy with milk obtained milking by hand.
During the 1970's, the Golden Coast Dairy Company amalgamated with Westland Co-op Dairy Company, a new payment system was introduced, and a large cool store was built.  A new butter factory was built at Walker Place in 1979 with a wheel water tube boiler and continuous butter maker installed.
The 1980's saw the installation of a new milk reception and separating process area and a new administration building was built at Weld Street (original location of the Butter factory). The Karamea factory amalgamated with Westland Dairy Company in 1987.  In 1989 a new pallet store was constructed, and the purchase of the Old Davidson's Galvanizing Plant and Cameron's land provided an area for workshops for tanker repairs and engineering services.
Prior to the restructuring of the dairy industry in 2001, dairy products manufactured in New Zealand were marketed and exported by the New Zealand Dairy Board, which was jointly owned by all dairy companies. In 2001, the industry was deregulated and the New Zealand Dairy Group, Kiwi Co-operative Dairies and the New Zealand Dairy Board amalgamated to form Fonterra. The shareholders of the company elected not to participate in the amalgamation and so became a fully independent dairy company responsible for the sales and marketing of its own products. Westland Milk Products, New Zealand trademark was first registered in 2001.
In 2002 the factory expanded with the addition of a laboratory, Dryer 3 building, packing room and protein Extraction system. The "Westgold" butter brand was launched in 2004 and in 2010 Westland Milk Products acquired full ownership of "EasiYo" (producer of Yoghurt products). In 2009 the Rolleston storage and sales and marketing office was established, - including Customer Service, IT, Finance, Supply Chain, People and Capability and Milk Collection.  Milk collection from Canterbury suppliers began in 2011. 
Westland began manufacture of Infant nutritional products and launched their "Westpro Nutrition" range in 2012. This was closely followed, in 2013, by the construction of Dryer 7, a dedicated Infant and Toddler Nutritionals (ITN) plant. In 2014, Westland opened their first offshore office in Shanghai, China. 
On 18 March 2019, China's Yili Group signed an agreement to acquire 100% equity of Westland Milk Products, subject to shareholder approval, which was overwhelmingly given on 4 July.
Westland Milk Products is the third-equal largest dairy processor in New Zealand (behind Fonterra and Open Country Dairy, and tied with Synlait) with a 3.4% market share.  Milk is sourced from across the West Coast, as far North as Karamea and as far South as Fox Glacier, and from farms throughout Canterbury.   In the 2020/2021 Season dairy companies in New Zealand produced 21.7 billion litres of milk, 692,830,253 million was produced on the West Coast.  A total of 388 farms supply to Westland Milk Products.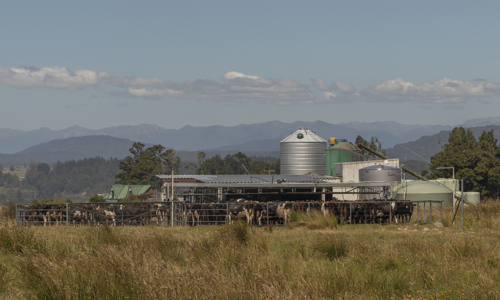 Image of Milking Shed at Kowhitirangi, Source: Helen Cook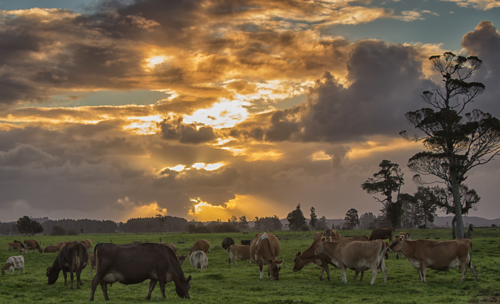 Image of Kowhitirangi dairy farm at Sunset, Kowhitirangi. Source: Helen Cook