A first-time experience of someone who has never attended a Wildfoods Festival ever in his life. This blog will go over my time at the Wildfoods Festival that occurred on the March 11th of 2023. This is a reflection of my time there, and snippets of history regarding the Wildfoods Festival. Enjoy!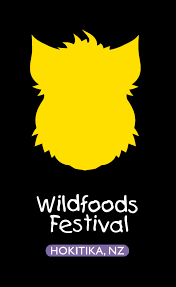 Logo of Wildfoods Festival 2023, Courtesy of Destination Westland  
When I first learned about the Wildfoods Festival, I envisioned a place filled with colorful foods, many stalls and entertainment. Of course, I also thought of the insects that would be there, which were especially daunting for me as they were exciting. It was going to be a fun experience!
The Festival was first planned by gorse-flower and rose-petal winemaker Claire Bryant, who wanted to make an event that celebrated the many flavors of the West Coast in a banquet style. That idea was scrapped, and the Wildfoods Festival was formed. The first Festival took place on March 1990 on Gibson Quay Street with New Zealand celebrity cook Alison Holst as a guest judge. It would become one of many events to come.
When I arrived the weather was grey and cloudy to the point I thought it would rain, which it did – though briskly for the most part. One of my first stops was the Huhu Grub stand that offered fresh huhu larvae straight from the corpse of the rotten lumber. As I held it between my fingers, I could feel its small body wriggling between my index and thumb and saw its mandibles pinching. That was by far the worst of the experience. I took the easier route by ripping off its head with my teeth, afraid it may pinch my tongue with the small pincers its beady brown head possessed – silly, I know. It continued moving as I chewed on it. The texture, to me, was "elasticky." Like biting into a living water balloon that soon popped. The innards of the grub squeezed out through the exposed opening where its head was. The texture was jelly-like and surprisingly cold. There wasn't that famous peanut butter flavor, which was sorely disappointing for me. It was probably because the grub hadn't been cooked and properly prepared. Still, it was a gnarly experience and I did get some bragging rights for a while.
That was the last insect I ate that day; I didn't think I could handle anymore.
Typically, March is the driest month for the West Coast, hence why Festival always takes place at that time. But in 1992, a violent and sudden wind brought down a tent that a film crew were inside. Sue Asplin, Museum Photographs Curator, and an advent participant of the Festival for years, was an outside witness of the incident, and said she genuinely thought people had died in there. Thankfully, nobody died and only one person sustained an injury, and the event concluded with a dance. A somewhat happy ending to an extremely unexpected incident.
Due to the influx of people attending the event that same year, the Wildfoods Festival was moved from Gibson Quay Street to Cass Square in 1993, where it's been held there ever since.
I grabbed a slushie at the Soft Serve West Coast, good, but wouldn't recommend getting one so early in the cold day. One of the first things I ate that morning was a wild pork taco from the Hokitika Bush Kitchen. An interesting thing I learned was that the meat was a mix of wild pork and commercial pork to add moisture to the meat. The flavor had a lot going on, with a largely oniony and smokey, slightly peppery taste to it. A good light snack but the flavors weren't for me.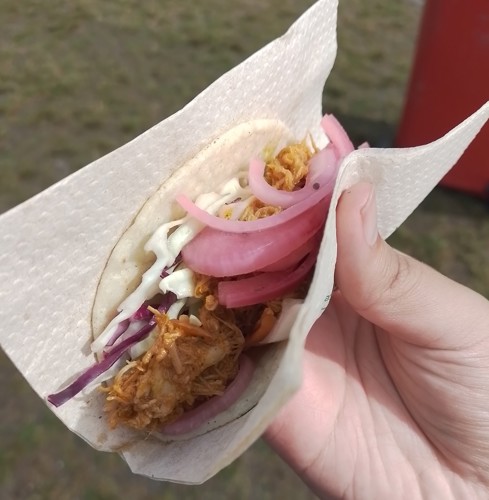 Image of wild pork taco from the Hokitika Bush Kitchen
One of my more favorite meals was this BBQ steamed bun. The bun was so soft and bigger than I expected, and the inside was a nice sort of sweet tangy meat cooked in a sauce in similar color to the wild pork taco. It had a sweet meaty taste, and the bun was also really good.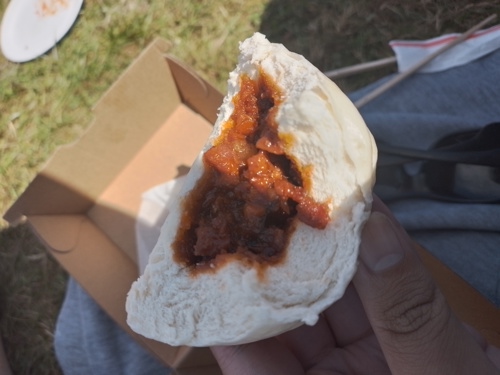 Image of BBQ steamed bun
The last thing I ate was a whitebait fritter that was cooked in egg and placed on white toast bread. It was so delicious and was by far the best thing I had that day. I highly recommend it!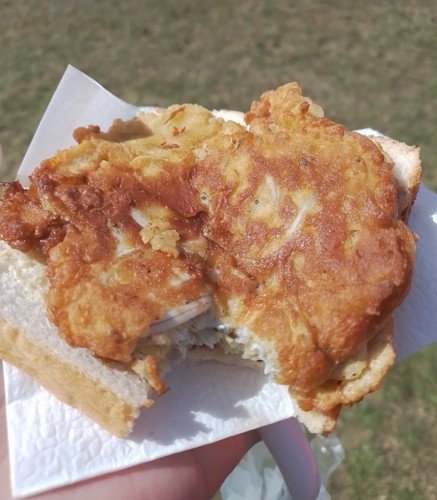 Image of white bait fritter from the Westland Soroptimist Stall
On more interesting notes, let's talk about entertainment. There were bands already performing on stage as I arrived. The first band was a local group called K.V.H, who performed some really good reggae tunes. There was also Cassie Henderson, who's probably most recognized for her audition in the tv series X-Factor New Zealand. As well as pop rock band Zed, who were by far my favorite of the three performances I saw. I especially loved their rendition of Crawl by Atlas. There was also legendary New Zealand musician Sir Dave Dobbyn but crushingly I didn't get to see him perform. That was a loss, but you win some and lose some. There were crowds of people gathering up and enjoying themselves, with some of the older attendees waving their canes to the beat.
The cosplays and feral fashion outfits were especially interesting. Some dressed as Super Mario characters, others as Teletubbies. Below are a trio dressed up as an example of just one of many cosplays.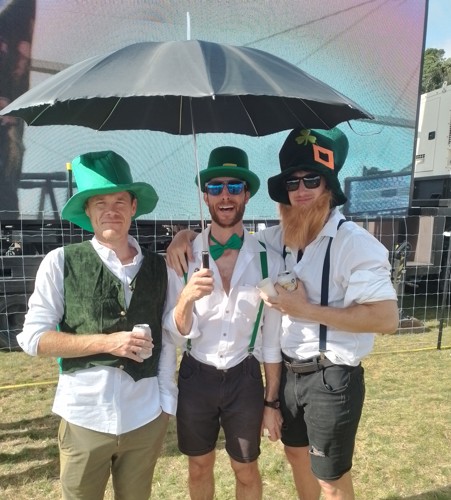 Image of three men dressed as Leprechauns
Of course, I can't be forgetting the fantastic drag duo, Erika & Co Co Flash. They talked on stage to the crowd and even sang songs on the Feral Fashion stage. The two were fantastic entertainers with loads of charisma and especially determined souls considering the huge wigs, outfits, and pounds of makeup they had to wear while walking around taking photos and greeting people all day long. IN HEELS no less! Props to you girls.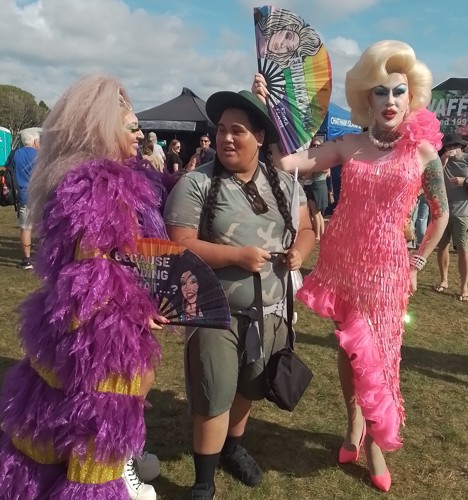 Image of CoCo Flash (left), Me (middle), and Erika (right)
Over the years, the Wildfoods Festival has seen its many ups and down. The Westland District Council, who had managed the Festival for many years, outsourced the event to Destination Westland. There were debates on whether the Festival was financially worth the risks of continuing, given its previous lack of profits. But the event has continued to go on, with a new one hopefully to take place in 2024.
In 2022, when the Wildfoods Festival were meant to take place here in Hokitika, New Zealand's covid protocols forced the Festival to be postponed until this year. As of now, I'm not sure just how many people were there, but there had to be around 10 thousand, and many of those that attended the event were Wellingtonians.
By the end I was incredibly tired (and incredibly sweaty) from the Festival. It was a great experience for a first-timer like me, and overall I'd say the event was a wonderful representation of what the West Coast has to offer.
I know this isn't my typical type of blog, but I thought it would be a nice and more personal take. Thank you for reading and have a wonderful day!