THIS PHOTOGRAPH IS TAKEN BY GLACIER GUIDE, NEVILLE HATWELL.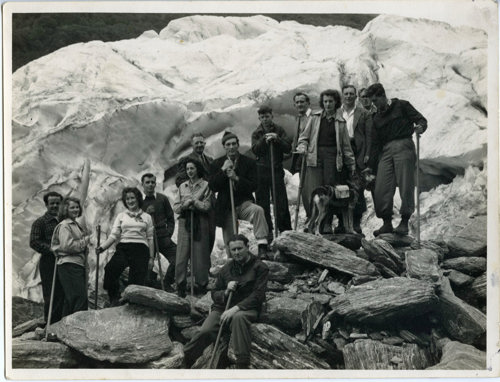 #019951 P2019.040.1 N. Hatwell Photograph
In 1952, 17-year-old Esther King left her home at Little River to find adventure on the West Coast. While working as a waitress at the Fox Glacier Hotel, she went on a guided tour of the Franz Josef Glacier with her fellow workers. Amongst them were some young English lads who had been brought to Fox as builders to work on the hotel. Esther is standing far left in this photograph next to one of the builders - her future husband, John Patrick Diggle. The guide is Neville Hatwell from Fox Glacier, whose dog Blue always carried the first aid kit.
Hatwell was Chief Guide at Egmont/Taranaki before moving to the Glacier region to pursue his love of mountaineering. He started his own business as a professional photographer, initially taking photos to sell to his guided parties, and later producing coloured slides to sell to tourists.